On May 31, 2023, DroneXperts hosted a webinar: Drones, guardians of public safety – Protecting and monitoring through innovation. This presentation was given by Brian Demers, Major Accounts Manager and Product Specialist. For latecomers, here's the written summary of the event.
DroneXperts, who are we?
We are pioneers and leaders in Canada, with an innovative center of expertise offering drone technology (sales and/or rental), training, consulting and service all in one place. Our team of experts has been supporting companies with confidence since 2012, and also offers unrivalled human and professional service.
Why use drones in public safety?
The drone has a huge advantage in the field of public safety, its deployment time is almost instantaneous. Not only does it provide rapid support for operations, it is also, and above all, a decision-making tool, whether live or off-line, perfect for assisting teams in the field in risk-taking situations and responding to emergencies (sites at risk for teams, hazardous materials, direct danger…). Drones are work tools that keep operators away from danger zones, so they can operate in complete safety.
Which drones and sensors to choose?
For this webinar, our Xpert has selected the "must-haves" in terms of drones and/or sensors that can greatly help you in the field of public safety.
The DJI Matrice 30 Series drone
The Matrice 30T is a rugged DJI drone built to withstand the elements, and designed to be highly portable despite its impressive sensor payload. The camera specifications are identical to those of the Mavic 2 Enterprise Advanced with a resolution of 640×152 and 30 frames per second. The M30T's control system is particularly advanced, with a 7-inch widescreen display on the dual-stick control system designed for corporate drone pilots.
The DJI Matrice 350 RTK drone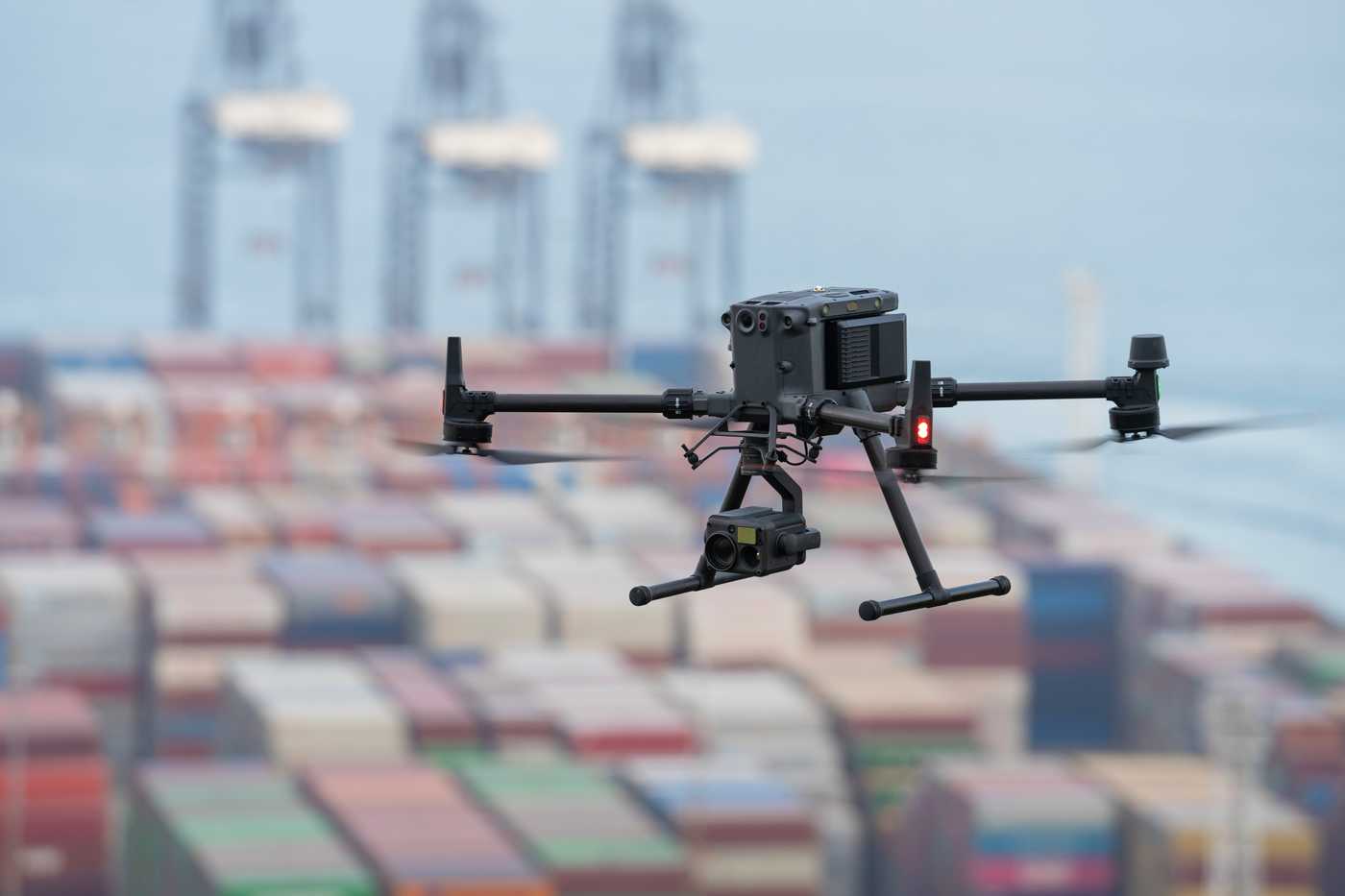 The Matrice 350 RTK is DJI's most technologically advanced drone, with the ability to carry up to three payloads simultaneously. The drone can be equipped with a maximum of one ascending and two descending turrets. The M350 RTK uses a new display system, incorporating more information on the main screen, to help the drone operator navigate around potential obstacles. Users can capture unprecedented levels of high-resolution thermal information with this device.
The Matrice 350 RTK is an upgraded version of the Matrice 300RTK drone. It retains many basic components, but with significant improvements in key areas to further enhance the safety and experience of every flight. See our comparison to understand all the new developments.
The EVO Max 4T drone
The latest addition to the Autel range, the EVO Max 4T incorporates a multi-sensor gondola with wide-angle camera, zoom camera, thermal camera and laser rangefinder for all your data capture and critical decision-making needs.
The EVO Max 4T brings users powerful technologies and advanced autonomy. The EVO Max 4T evaluates complex environments to create real-time 3D flight paths for unrivalled obstacle avoidance. Advanced sensors make it possible to fly in areas where GPS is not available, and the incredible new thermal payload opens up new scenarios for identifying and tracking objects.
Its great advantage is that the EVO Max 4T uses advanced flight control modules and algorithms specially designed to counter RFI, EMI and GPS spoofing. This enables the EVO Max 4T to fly with confidence close to power lines, critical structures and complex areas.
The EVO 640T drone
Resolutions of up to 640×512 enable EVO II Dual pilots to capture subjects in great detail up to 100 meters away. The 30 Hz refresh rate produces smooth, dynamic thermal movement by matching the thermal images to the video frame rate.
Thanks to its versatile sensor and compact size, the Autel Evo II Dual 640T is an excellent choice for a wide range of applications:
Inspections of power and telephone lines: Reduce costs, increase safety and improve the inspection process;
Fire fighting: Enables firefighters to locate hot spots, provide surveillance and reduce response times;
Law enforcement: Enables law enforcement to monitor, reconstruct accident scenes, conduct forensic examinations and crowd control;
Search and rescue: The thermal imaging camera helps to identify subjects, reduce response times and maximize the search area thanks to automated mission planning;
Chemicals: Enable more efficient plant inspections, while improving worker safety and reducing inspection costs.
Zenmuse H20N sensor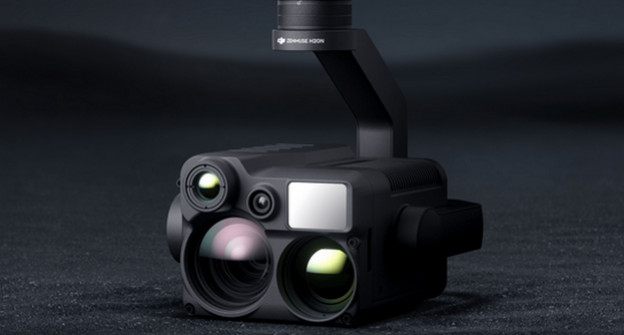 The Zenmuse H20N thermal camera is capable of detecting light sources as low as 0.0001 lux and has starlight sensors built into its zoom and wide angle cameras. Combine it with thermal and zoom cameras and a laser rangefinder, and you've got a versatile hybrid payload to match. Two thermal imaging cameras offer 2x and 8x zoom respectively, for a maximum total zoom of 32x. Find hot spots and inspect areas in detail. The H20N also supports synchronized zooming between Starlight thermal imaging and night vision cameras. Users can shade the images simultaneously. This multiplies efficiency and makes it easier to compare details side by side.
The Zenmuse H20T sensor
DJI's Zenmuse H20T thermal camera has been specially designed for the Matrice 350 RTK drone and features four sensors:
1/2.3-inch 12 MP wide-angle sensor;
a 1/1.7 inch 20MP sensor with a 23x zoom;
a laser rangefinder with a range of 1200 m;
a 640 x 512 pixel radiometric thermal camera.
What applications for drones in security?
In the field of security, drones can sometimes be used to intervene in areas that are difficult for humans to access. In this way, certain essential missions can be carried out following a disaster, such as dropping equipment or transporting people.
During the webinar, several case studies were presented to illustrate the usefulness of drones and their sensors in emergency situations. If you'd like to review these case studies, we invite you to visit our webinar.
What are the regulations and legal considerations in Canada?
In Canada, to collect data using a drone, you need a pilot's license. You must either hold a basic operations certificate, which only allows you to fly your drone in uncontrolled airspace. Or the second option is to hold an advanced operations certificate, which will enable you to fly your quadricopter in controlled airspace.
Today, drones are considered to be aircraft. When you use your drone, you'll be sharing the airspace with other aircraft. That's why, before using your quadricopter, you need to know the rules to follow and where to find the information. These regulations are put in place by Transport Canada, the Canadian federal government's department of transportation. If you would like to find out more, you can read our blog post: "What are the regulations for drones in Canada? Discover our guide."
To conclude this summary, we would like to thank again all the people who followed this event live. Thanks also for checking out this article and for more details, the full replay is online!