Want to know more about industrial drones? Whether the world of drones touches you from near or far, find below a selection of the best drones for professional use. Having a wide range of fields of use, drones can be used in different sectors, such as: construction, security, inspection, surveying and more.
In this article, find out in detail everything you need to know about commercial drones, their embedded technologies, and the different ways they are used for industries.
Before going into more detail in the comparison of the different professional drones present on the market, it seems important to define the different operational fields in which the drone is an indispensable tool. Here is a non-exhaustive list:
What are the different fields of use for the drone?
The fight against the fire
The use of drones for firefighting is one of the major recent developments that allow for safe and efficient supervision of operations.
Indeed, the drone offers a general view of the situation and provides important information. The use of a thermal camera can also help to detect fire outbreaks by highlighting hot spots.
If you want to know more about this subject, you can read our article: All about the thermal drone and its fields of application.
Public safety and search and rescue missions
Drones allow for rapid assessment of the situation over a large area, reducing the time and number of rescue workers needed to locate and assist an injured or lost person. This considerably reduces the risks and costs of a search and rescue operation.
Through this article, discover the 7 most advantages of integrating drones into your rescue missions.
The field of civil engineering and energy for the inspection of power lines
Drones are proving to be very useful in the construction industry, at various levels. They combine speed and flexibility. Highly mobile, they can be operated to observe any corner, where it would be difficult for a human to access, and at a level of detail that helicopters or airplanes would have difficulty achieving, while being quite inexpensive. The collected data allows to model very quickly a precise image of the building.
Indeed, these aircraft equipped with cameras are very useful in several cases. Thanks to their small size, speed and maneuverability, they are an invaluable aid in inspection. Thus, they can provide detailed information on the condition of the building, its dilapidation, its energy losses.
Surveying
Drones are also powerful business tools, simultaneously offering users gains in efficiency and safety. The surveying and mapping industry is no exception.
Thanks to their ability to capture data, drones have been successfully integrated into surveying workflows to perform topographic surveys, photogrammetry, 3D mapping.
The farmer's domain
A farmer can also become a drone pilot, for a variety of uses. Equipped with a professional drone, he can indeed save a considerable amount of time and optimize the yield of his plots thanks to these devices that allow a precise aerial view. Moreover, thanks to certain sensors, it can obtain relevant information on the health level of a soil or a plant and thus act locally. If you thought you knew everything about drones, you'll be surprised to find out how important their use is in agronomy and how they have become decision support tools in the agricultural sector through this article.
Environmental monitoring and inspection
Environmental issues are major topics for the future. What is unique about the drone is its ability to fly over dangerous, polluted or hard-to-reach areas at low altitude and over long distances, without endangering or risking the environment or humans. Discover the innovative solutions of DroneXperts.
What is the best drone for professionals on the market?
The DJI Matrice 300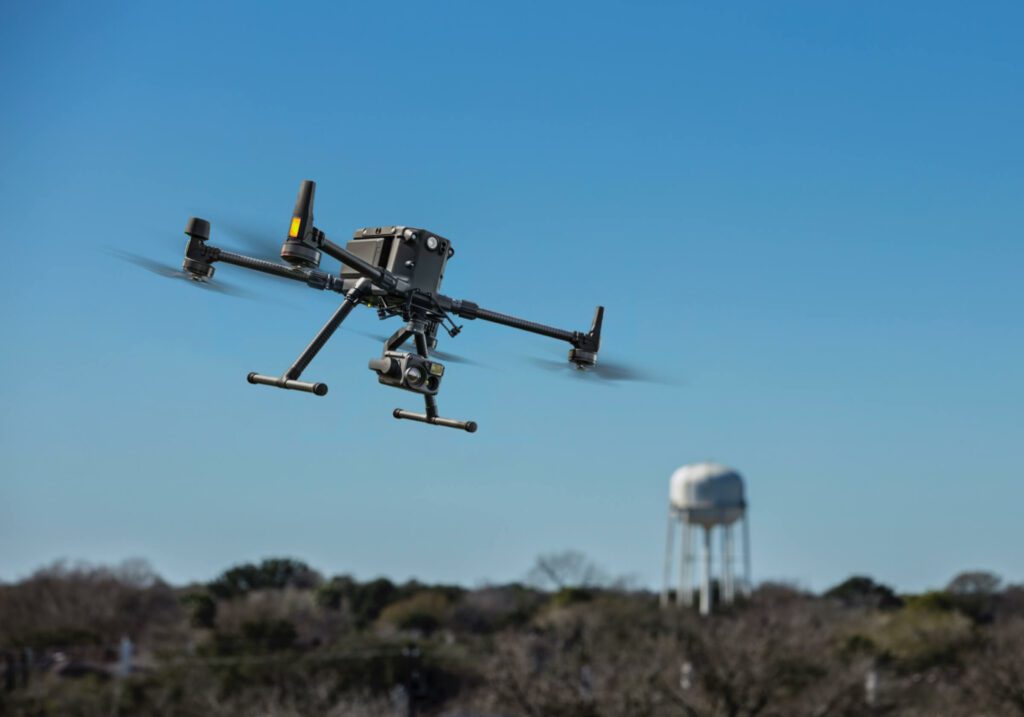 Designed by DJI, the world's leading drone manufacturer, the Matrice 300 RTK is a revolutionary machine in the drone market. Placed between the Matrice 200 and 600 series, the Matrice 300 RTK is a resolutely technical and versatile machine.
With an announced autonomy of 43 minutes with H20T sensor and its IP45 certification, the resistance increases compared to the Matrice 200 drones. The M300 RTK will adapt to extreme environments (cold, hot, dust, rain, snow). DJI has developed technical and high performance sensors to adapt to this new vector. Also equipped with a multitude of obstacle detection sensors in 6 directions, navigation and piloting are secure.
With the new carrying capacity of the M300 RTK, you will now be able to equip up to 3 sensors simultaneously (two below, one above) which gives the ability to make vertical videos / photos / inspections. This ability to adapt to all types of external circumstances combined with the diversity and performance of the sensors it can carry is unique. In addition, an operator will be able to take care of the piloting while a cameraman will be able to focus only on the images.
Whether it's for visual inspections of structures, thermal detection, or long-range vertical observation/monitoring, or all three, the Matrice 300 RTK will not shy away from the task.
With all these improvements, the Matrice 300 RTK becomes the hardened drone of reference.
The DJI Matrice 30T
The DJI Matrice 30T series combines the features of the Matrice 300 RTK and the Zenmuse H20 series in a smaller platform.
A new generation of DJI commercial drones. The Matrice 30 series integrates multiple high-performance sensors into a lightweight, portable body. Equipped with a remote control designed for businesses and the newly upgraded Pilot 2 flight application to improve the efficiency of drone operations. Compatible with FlightHub 2 cloud platform and DJI Dock to perform cloud collaboration and remote deployment operations.
Compact and foldable, the M30 Series is easy to pack, transport and deploy. With IP55 protection, the M30 can easily handle the elements and temperatures ranging from -20° C~50° C. Dual vision and ToF sensors appear on all six sides of the device, ensuring its safety and the safety of your mission. The built-in ADS-B receiver gives you timely warning of an approaching manned aircraft. Built-in advanced redundancy systems ensure that your critical missions continue even in unexpected scenarios.
The M30 Series integrates wide, zoom and thermal cameras (M30T only) with a laser rangefinder, which together can capture the aerial data you need, when you need it.
Matrice 30 products available at DroneXperts :
MATRIX 30 Combo SP
MATRIX 30 Combo SP+
MATRIX 30 SP
MATRIX 30 SP+
MATRIX 30T Combo SP
MATRIX 30T Combo SP+
MATRIX 30T SP
30T SP+ MATRIX
The Mavic 3 Enterprise
The DJI Mavic 3 Enterprise has an extraordinary combination of features that allow it to perform very effective mapping missions. To make this possible, the drone incorporates a 20MP wide-angle camera with a 4/3 CMOS sensor featuring large 3.3μm pixels.
With its intelligent low-light mode, it offers improved performance in low-light spaces. Its powerful up to 56x hybrid zoom camera has an equivalent focal length of 162mm for 12MP images. A mechanical shutter prevents motion blur and supports fast 0.7 second interval shooting.
The EVO II Pro Enterprise Bundle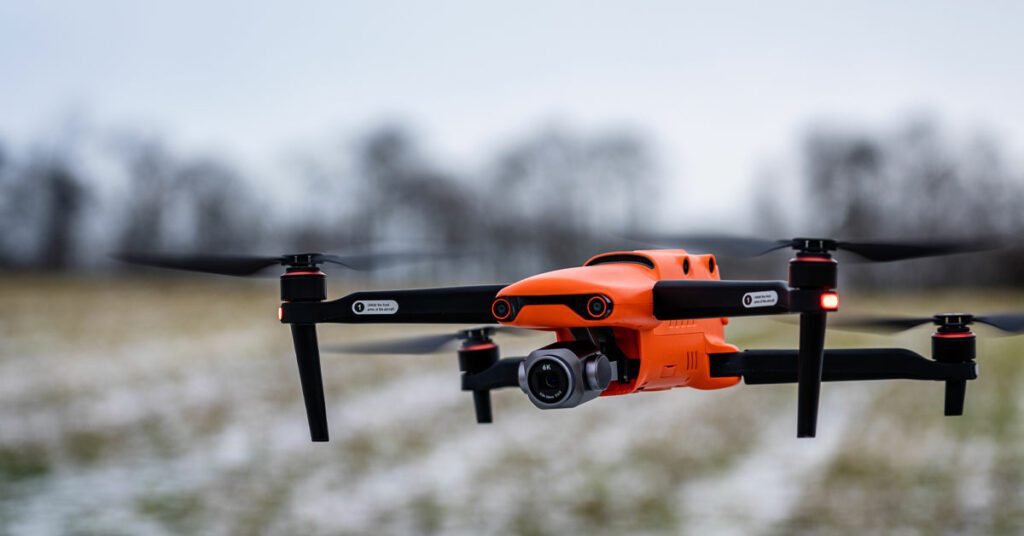 Optimize your workflow with our most robust EVO II Pro Enterprise Bundle to date, with new accessories and camera features to meet the demands of professionals in every industry, from firefighting to construction. With a foldable design that can be deployed in seconds and easy-to-use one-handed controls, the EVO II Enterprise is a surefire way to increase efficiency without increasing stress.
The Wingtra One GEN II
Large areas to survey, difficult or steep terrain, large differences in altitude, difficult weather conditions or lack of flat surfaces for take-off and landing: the WingtraOne surveying drone can overcome all these challenges for medium and large-scale surveying.
With its 42 MP full frame camera, the WingtraOne can fly at high altitudes while providing low GSD (Grounds Sampling Distance) images. This ensures that large areas can be surveyed more quickly with high accuracy. Higher resolution also allows for better reconstruction of the orthomosaic map.
With the PPK option, it is possible to achieve an absolute accuracy of 1 cm, which was previously only possible with ground survey equipment. This requires optimal conditions, flights over hard surfaces, and the use of well-marked, visible, and manually measured ground control points, as well as an established base station.
What are the best professional drone sensors (cameras)?
The Zenmuse P1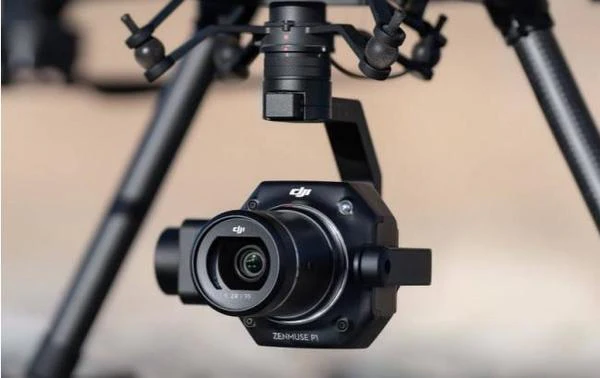 The Zenmuse P1 incorporates a full-frame sensor with interchangeable fixed-focus lenses on a 3-axis stabilized gimbal. Designed for photogrammetry flight missions, it takes efficiency and accuracy to a whole new level.
Zenmuse P1 use cases:
Topographic Mapping: Capture data that meets accuracy requirements at 1:500 scale without GCP.
Cadastral Surveys: Quickly generate 3D reality models accurate to the centimeter.
Architecture, engineering, construction and surveying: Manage the entire project lifecycle with 2D and 3D drone data.
Natural Resource Management: Measure, classify or determine ownership of water bodies and forests.
Geological investigation: safely collect aerial data accurate to the millimeter on sites with geological hazards.
Disaster site modeling: Get real-time overviews of large disaster areas to help teams make critical decisions.
The Zenmuse L1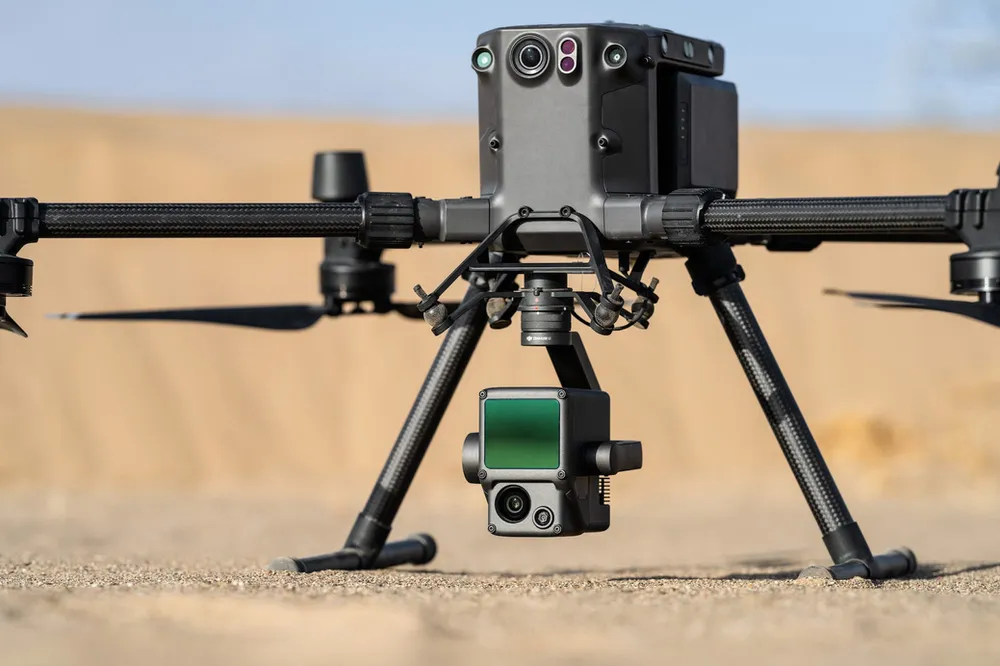 The Zenmuse L1 integrates a Livox Lidar module, a high precision IMU and a camera with a 1 inch CMOS on a 3 axis stabilized gimbal. Used with the M300 RTK and DJI Terra, the L1 forms a complete solution that provides you with real-time 3D data all day long, effectively capturing the details of complex structures and providing highly accurate reconstructed models.
Zenmuse P1 use cases:
Topographic Mapping: Quickly create topographic maps using accurate digital elevation models.
Civil engineering, construction and surveying: Manage the entire project lifecycle with highly accurate point clouds and 3D models.
Emergency response and public safety: At any time of day, gather critical information in real time using true-color point clouds. Get real-time situational awareness and forensic information to make informed decisions on the spot.
Energy and infrastructure: Model sparse or complex structures in detail to manage them efficiently and safely.
Agricultural and forestry management: Get an overview of vegetation density, area, stock volume, canopy width and growth trends.
Zenmuse H20 and H20T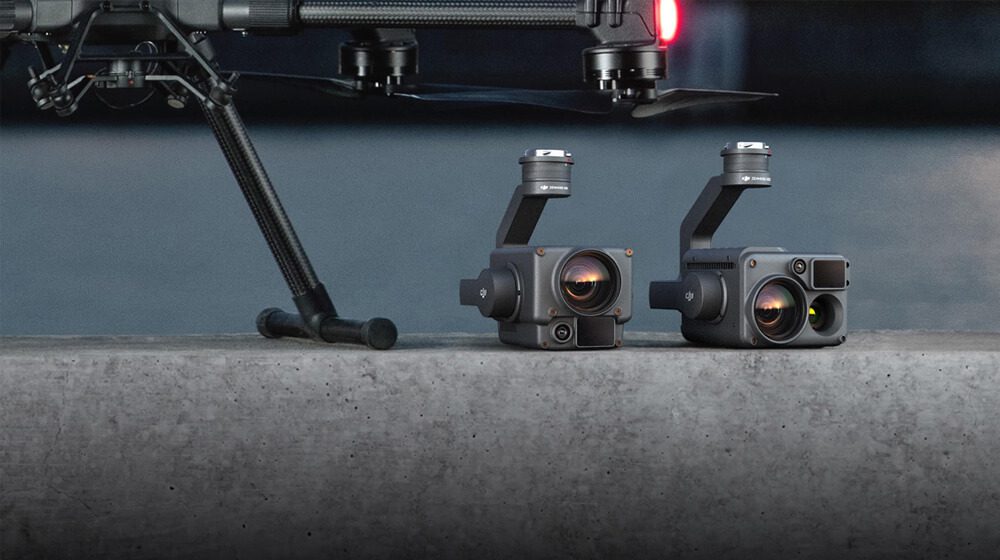 The Zenmuse H20 and Zenmuse H20T are multi-sensor payloads that bring a whole new meaning to mission effectiveness. The unique intelligence and integrated design provides unprecedented aerial imaging capabilities for a range of commercial drone applications. Capture everything. From near or far. In bright colors or thermal. An integrated laser rangefinder (LRF) measures the distance to an object up to 1200 m. A powerful, integrated payload that unleashes advanced intelligent capabilities for DJI's industrial drone platforms.
Zenmuse H20 and H20T use cases:
Fire Fighting: Fight fires and save lives without endangering personnel.
Search and rescue: Act quickly to locate missing persons and better plan rescue missions.
Law enforcement: Quickly assess a situation and plan accordingly while improving officer and bystander safety.
Power Line Inspection: Easily view extensive power line networks in remote areas.
Oil & Gas: Conduct inspections of pipelines, well sites and more while keeping workers out of hazardous areas.
MicaSense RedEdge-P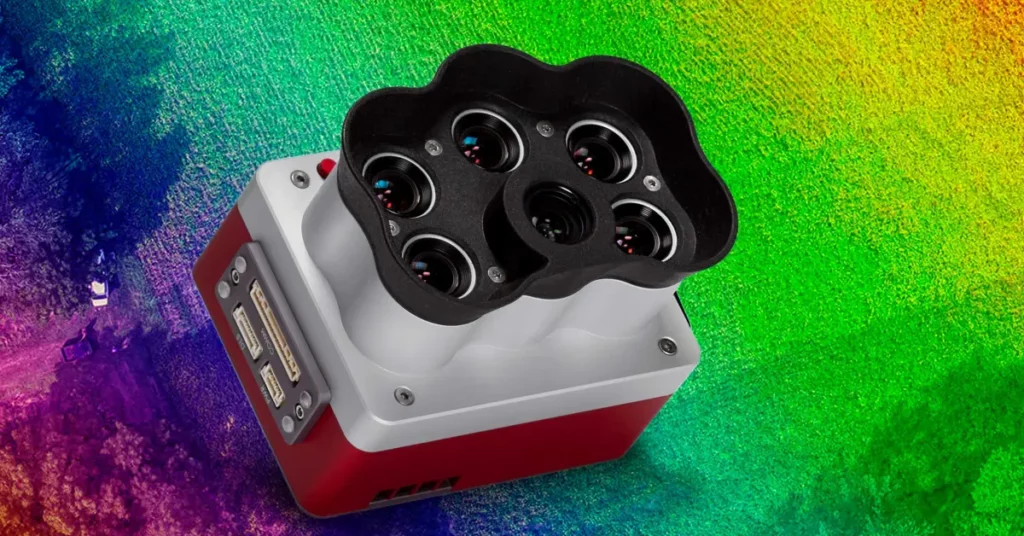 The RedEdge-P is a single-camera solution for synchronized capture of calibrated high-resolution RGB and multispectral images, with an optimized field of view and capture rate for efficient flight. It seamlessly integrates a high-resolution, full-color imager with synchronized multispectral imagers to enable RGB and multispectral outputs at 2 cm GSD at 60 m, unlocking extended analysis capabilities.
The sensor kit comes with: RedEdge-P sensor, lens cap, new CFexpress removable professional storage standard, CRP 2 (the latest version of our calibrated reflectance panel), DLS 2 light sensor with integrated GPS, cables, mounting screws, hard carrying case.
MicaSense Altum-PT
The Altum-PT is a 3-in-1 solution optimized for advanced remote sensing and agricultural research. This solution seamlessly integrates a 12 MP panchromatic imager with ultra-high resolution, a integrated radiometric thermal imager 320 x 256 and five spectral bands discrete to obtain synchronized results such as RGB color, crop vigor, heat maps and high resolution panchromatic in a single flight. Higher resolution also means more analytical capabilities and applications: discerning problems at the plant level, even in the early stages of growth, including early stand counts. The Altum-PT is also equipped with a global shutter for distortion-free results on any platform, fromOpen APIs and standard data formats for compatibility with multiple processing platforms, as well as a new professional removable storage standard CFexpressfor two captures per second and the fastest turnaround time between flights.
FAQ
How to choose a professional drone?
Definitely and in a general way, our choice stops on the Matrice 300 of DJI not only for its versatility but also for its autonomy. Thanks to the interchangeability of its sensors, the M300 meets the diverse requirements of several sectors.
Nevertheless, you should know that the Wingtra Gen One II is the ideal solution for the photogrammetry field. Indeed, thanks to these characteristics, it is a real asset for projects with high recurrence or for large sites.
What is the best brand of drone?
As you may have understood, our choice is based on a drone model and not on a brand. Indeed, it is important to select the drone that suits you according to your needs and your issues. The brand name is a guarantee of reliability, but in no case should it be the determining factor in the choice of your equipment.
What is the average price of industrial drones?
An average price is relative since a smaller industrial drone is less expensive than a larger one. To give you an idea, prices can range from $8,000 to $30,000.
For some devices, you have to add sensors that are not included and their prices vary from $4,000 to $10,000 depending on your needs.
What is the battery life of industrial drones (without payload)?
Matrix 300 RTK: 55 min
Matrix 30 : 41 min
EVO II Pro Enterprise: 42 min
Mavic 3 Enterprise : 46 min
How to become a professional drone pilot?
No, you're not dreaming, piloting a drone is now a profession in its own right. Far from being a simple hobby, the drone has become a tool that has become professionalized in recent years and this is not surprising given the many features that aircraft offer.
Like the job of an airplane pilot, becoming a drone pilot and/or remote pilot requires certain conditions and can be learned through training. With the constant evolution of drones, legislation had to be put in place to regulate the conditions of their use. These exist primarily to ensure public safety. Transport Canada is the Canadian federal government department responsible for the development and application of transportation regulations and policies. A well-trained drone pilot is required to know the laws in place in order to practice his profession in the rules of the art. A little further down, we will discuss this topic in more depth.
Are you interested in a career as a drone pilot and want to learn more? See our complete guide.
Where to buy an industrial drone in Quebec?
You can go directly to our store or contact one of our consultants who will be happy to assist you in the process of acquiring a drone.
Why is DroneXperts your reference for commercial drones in Quebec?
Pioneer and leader in Canada, DroneXperts is an innovative center of expertise that offers you everything all in one place: technology (Sales, rental), training, advice and service.
Our team of experts, who have been supporting companies with confidence since 2012, offer you an incomparable human and professional service At DroneXperts, we help our employees develop a customer and expert attitude in their work through a culture of results, mutual support and continuous improvement, this is reflected in the service offered to customers.