On March 14, February 2023, DroneXperts hosted a webinar: What's New and Trending in the Drone Industry. This presentation was made by Guyllaume Aprile, Consumer Sales and Logistics Coordinator. For those who are late, here is a written summary of the event.
What is a drone?
A drone is a device without a pilot on board whether it is flying, land or water. It is generally piloted remotely by a human operator and it has a more or less important level of autonomy. A drone is above all a mobile sensor platform. It is a tool for observation, acquisition and transmission of geolocalized data.
New products in 2023
Consumer products
DJI Mini 3 Pro
The DJI Mini 3 Pro is as mini as it is functional and combines power and portability. Weighing less than 249g, it is equipped with enhanced safety features that will provide you with a better experience during every flight. With larger propellers, sloping body aerodynamics and a powerful obstacle detection system, the streamlined design of Mini 3 Pro improves flight time and safety. The Intelligent Flight Battery is ultra light and has the power to cover your aerial photography needs with an extended flight time of 34 minutes.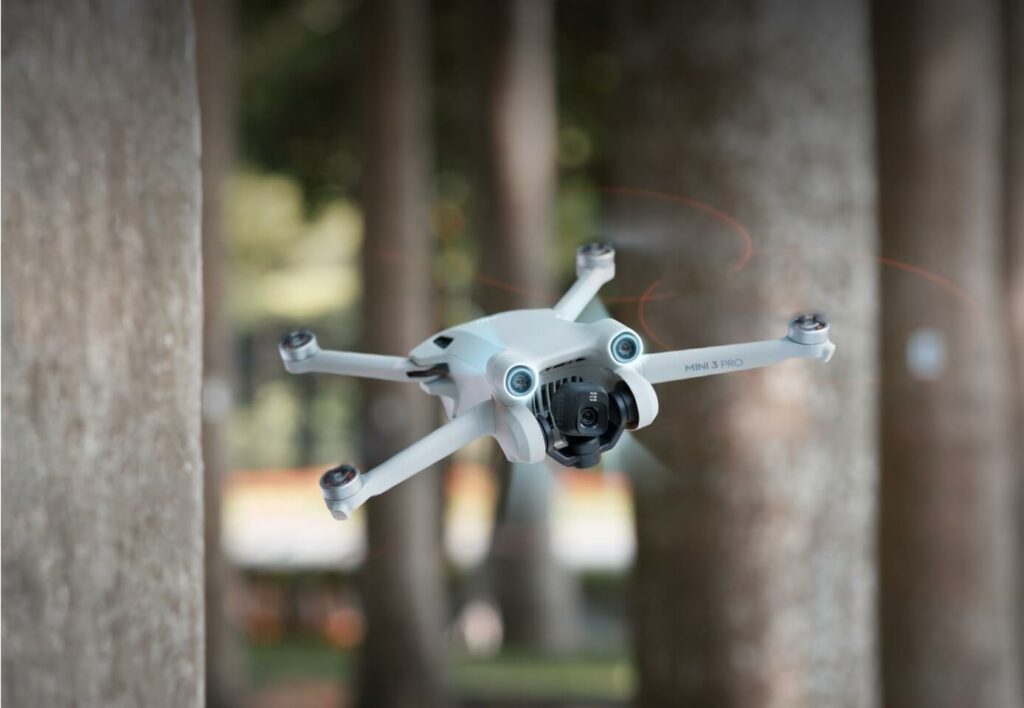 DJI Mavic 3
The DJI Mavic 3 drone is equipped with a Hasselblad CMOS 4/3 camera for a resolution of 5.1K in 50 FPS and 20 MP photos. The lens has an adjustable aperture f/2.8 – f/11 which corresponds to a focal length of 24mm. The Mavic 3 has a flight time equivalent to 46 minutes with again the advanced RTH (Return to Home). We also appreciate its powerful multidirectional obstacle detection, visible with its HD video transmission.
DJI Avata
Compact and lightweight, the DJI Avata is agile even in tight spaces. Built-in propeller protection means that if the Avata comes into contact with an object, it can bounce off, stay in the air and continue to fly. Equipped with a 1/1.7-inch CMOS sensor, the DJI Avata supports 4K ultra-wide-angle recording with an f/2.8 aperture. Combined with high-level imaging performance, it delivers outstanding visuals.
Enjoy a new level of comfort and convenience with DJI Goggles 2. Now smaller, lighter and equipped with Micro-OLED displays, you get exceptional clarity when navigating the sky. The DJI Avata also supports the DJI FPV V2 headset
As for the autonomy, it will fly for 18 minutes maximum and can fly up to 11.6 km of distance.
Evo Nano +
With a weight of 249g, this foldable drone literally fits in your pocket and allows you to obtain photos and/or videos of remarkable quality. Equipped with a 4K camera, it includes an obstacle avoidance system, shooting modes such as "automatic tracking".
The Evo Nano + drone has a maximum autonomy of 28 minutes, a control distance of up to 10 kilometers and a top speed of 54 km/h.
Evo Lite +
The Evo Lite + features a 1-inch sensor capable of 6K video at 30 fps and 20 MP shooting. It is designed to easily accommodate in low light environments.
The Evo Lite + has the same advanced software features as the Evo Nano, as well as 3-way obstacle detection. But the autonomy is much higher: the flight time, according to Autel, reaches 40 minutes.
Company products
DJI Mavic 3 Enterprise
The DJI Mavic 3 Enterprise has an extraordinary combination of features that allow it to perform very effective mapping missions. To make this possible, the drone incorporates a 20MP wide-angle camera with a 4/3 CMOS sensor featuring large 3.3μm pixels.
With its intelligent low-light mode, it offers improved performance in low-light spaces. Its powerful up to 56x hybrid zoom camera has an equivalent focal length of 162mm for 12MP images. A mechanical shutter prevents motion blur and supports fast 0.7 second interval shooting.
The Mavic 3 Enterprise has a long battery life of up to 45 minutes, allowing you to conduct large area mapping missions in a single flight.
Evo Max 4T
The EVO Max 4T is a drone intended for professional use. Its autonomy reaches 38 to 42 minutes according to the type of flight, with a removable 4S battery of 8070 mAh.
The image part is based on a multi-sensor camera integrated in a mechanically stabilized pod, manually adjustable from -90° to +30°. It includes a 50 MP wide-angle camera based on a 1/1.28″ CMOS sensor at f/1.9 with an 85° angle. And a 48 MP camera that shoots in 8K with a 10x optical and 160x digital zoom. And a thermal camera with a definition of 640 x 512 pixels with a 16x digital zoom for a page from -20 to 550 °. And finally, a laser for distance measurements, between 5 and 1200 meters with an accuracy of 1 meter. Note that this image block is a payload, which means that it can be removed and replaced by another accessory.
Accessories and action camera
DJI Osmo Action 3
Take great photo and/or video shots with the DJI Action 3's 1/1.7-inch sensor. Consisting of 12 MP, it is capable of slow motion up to x4 even in 4K! The images from the Osmo Action 3 camera are full of wonderful colors thanks to the HDR feature. The camera also incorporates numerous stabilization algorithms that allow it to deliver an ultra-stable image.
The Osmo Action 3 is capable of operating for 160 minutes. With superior strength, the impact of cold on the camera's life is minimal.
What are the possible uses and trends for the drone?
Depending on the onboard camera, a drone can perform all types of aerial photography, it can perform the following operations:
Inspection of buildings, bridges, under the roof, etc. … ;
Photography;
Visual production;
Video for extreme sports;
Photogrammetry;
Volumetry;
Thermal readings.
Discover the different fields of application
The drone is more and more widespread in companies, for its information contribution, its autonomy and its speed of deployment. There are many areas where the drone performs and proves to be a real ally, but to better understand how, here are some examples:
In agriculture
It allows a monitoring on the crops. Some are designed for precise spraying of treatment products according to the needs of the field, also for detection of diseases on crops. This is a significant advantage, there are few constraints since the crops are in unpopulated or sparsely populated areas and allow to move quickly over very large areas.
If you're interested in learning more, you can check out our blog post: All about the drone in precision agriculture.
In surveying, construction or civil engineering
By aerial means, the drone helps with reconstruction, cadastres, a global view of the works, for new discoveries, make 3D maps. It also facilitates inspection in high areas, for example, on wind turbines, photovoltaic panels, dams and roofs, with the advantages of saving time and money.
Find out how DroneXperts can help you professionalize drone integration in the construction industry?
In public safety
Drones can also assist firefighters, as they can provide live images of the fire and its origin, including thermal readings.
Discover the 7 biggest benefits of incorporating drones into rescue missions!
In civil security, drones are starting to appear. They can monitor buildings, warehouses, open-air events, risk areas, road traffic, and provide an aerial view of the entire situation.
For the environment
The environmental use of drones is rapidly becoming a reality, and their potential in this field is more than promising. Drones will play a major role in the global response to global warming.
DroneXperts itself has become a manufacturer of a drone-assisted air sampling system that includes 3 different air sampling processes recognized by specialists in the field, namely:
A sample bag (lung);
A sample canister;
Adsorbent tubes.
The AIR-DX system allows for rapid drone-assisted air sampling in areas that are generally not safely accessible or inaccessible by conventional methods.
How to choose the right drone for your needs?
Before purchasing a drone, it is important to define certain points in order to know which device will best meet your expectations and your challenges. Here is a non-exhaustive list that we have put together to help you choose your future quadricopter:
Will I fly my drone in controlled or uncontrolled airspace?
What quality do I need for my videos and photos?
How much autonomy do I need?
What budget do I have to purchase my equipment?
Do I need any related accessories?
To conclude this summary, we would like to thank again all the people who followed this event live. Thanks also for checking out this article and for more details, the full replay is online!