Introducing the WingtraOne GEN II
The Wingtra GEN II is undoubtedly what represents the most advanced reliability of mapping drones. Whether on a field mission or for data analysis, the flying wing has been designed to optimize flight time and cover a larger area. As a result, it increases productivity, maximizes data collection time and ensures consistent reporting.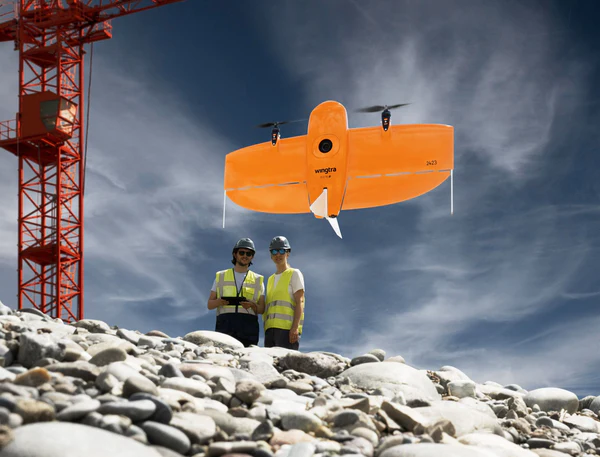 What is a fixed-wing drone?
This type of drone is composed of a fixed wing and allows these devices to be the most suitable for covering long distances while spending little energy, which allows them to obtain a very high autonomy. This type of drone is highly recommended for long mapping missions. It is easy to fly, however, their type of operation does not allow hovering.
What is a VTOL drone?
In English, VTOL stands for Vertical Take-off and Landing aircraft, which means that the drone takes off and lands vertically. Thanks to this new technology, take-off, data collection andlandingare fully automated and autonomous. Moreover and for various reasons, it is quite possible to pause your flight mission and thus make the drone hover in the air and then resume your data collection at the location where the device has stopped.
The fixed-wing drone vs the quadcopter drone
Fixed-wing drones have several advantages over quadcopters. Indeed, they are faster than propeller drones and therefore they can cover greater distances in equal time. They also make it possible to fly at higher altitudes with equivalent or greater precision depending on the sensor used. All these characteristics make them suitable drones to collect as much information as possible in a single flight.
Main features of the device
The WingtraOne GEN II has several innovative features with the aim of achieving optimal results in a short period of time. Let's take a closer look at some of these parameters.
Sensors and/or cameras
Each flight mission being different as well as the expectations and needs, to do this, the drone can be equipped with several different sensors.
The MicaSense Altum Multispectral: This is a thermal camera with five high resolution bands to produce high resolution thermal, multispectral images in a single flight. Learn more.
The MicaSense RedEdge-MX Thermal: this is a five-band multispectral camera that also captures RGB, NDVI layers and also vegetation indices in a single flight. Learn more.
Using the WingtraOne GEN II
The WingtraOne is supplied with a tablet equipped with the WingtraPilot application which makes it easy to control data collection. The application is intended to be intuitive and has several options in order to better prepare your flight missions. It also allows you to monitor various parameters such as battery check, GPS reception and much more throughout the duration of the flight.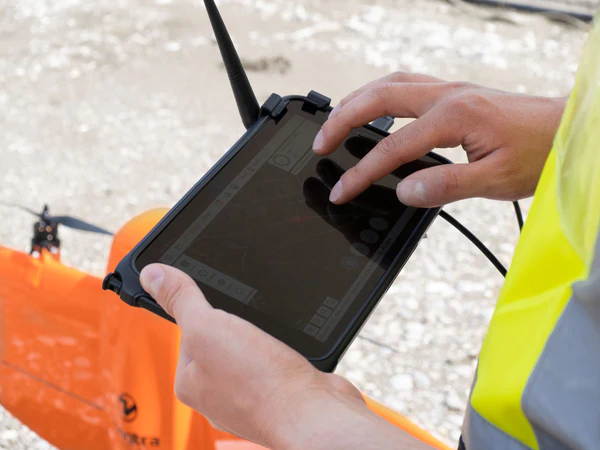 How does drone photogrammetry work with the WingtraOne?
To carry out photogrammetric surveys, the WingtraOne fixed wing is equipped with a 42 Megapixel sensor. The flight speed is 16m/s which provides wider coverage. Being able to fly at a higher altitude allows for more accurate terrain captures with much more detail. Thanks to the PPK, the fixed wing benefits from centimetric precision and it is no longer necessary to have control points on the ground.
How much does a Wingtra device cost?
You wish to acquire a WingtraOne Gen II, contact one of our advisors to discuss your project and get a quick quote. In the meantime, you can also find all the details here.