RTK technology for surveying and mapping
For several years, drones have proven to be powerful tools that simultaneously offer users a gain in productivity, speed and security, especially for the surveying and mapping industry.
Thanks to their efficiency and ease of capturing data, drones have been successfully integrated into surveying work to perform topographic, photogrammetric, or 3D mapping surveys.
Whether you are a new or experienced surveyor who is looking for innovative solutions or just a drone enthusiast who wants to learn more, then this article is here to help you understand what RTK, PPK and these technologies are. fields of application.
What is the meaning of RTK and how does it work ?
Before we start, do you know what RTK stands for? "Real Time Kinematic". It is an advanced satellite positioning technique that requires a reference station placed on the ground at a known location. With an RTK drone, surveyors and other users in different industries can achieve centimeter-level positioning accuracy during their flight missions. The system represents a clear evolution from traditional GPS data and ensures you have reliable information that allows you to obtain a work of great precision. To do this, the calculation method takes into account the GPS data of the drone as well as the data of the fixed base, to obtain precise positioning in real time. RTK needs two types of connections during flight :
One between the remote control and the base station ';
The second between the radio control and the drone.
It is therefore important to favor open areas and where the network coverage is of good quality in order to maintain good connection stability between the different devices.
To have access to this technology, here are the essential elements you will need :
A base station on the ground ;
An RTK drone ;
A controller ;
A good network connection.
RTK vs PPK Technology: Which to Choose ?
As mentioned earlier in this article, drones offer more and more complete solutions, but within these different offers, there are several technologies available depending on individual needs. After having mentioned the PPK, let us now focus on the PPK.
What is PPK ?
PPK means "Post Processed Kinematic". The data collection and operation of this technology remains the same as RTK with one difference. With the PPK, the data is not corrected in real time, but after the flight. Using computer-based processing software, the data stored on the drone is combined with data from the base station to produce centimeter-level results as well.
Which is more accurate between RTK and PPK ?
In conclusion, PPK RTK drone solutions are both capable of delivering centimeter-accurate results, but :
RTK technology requires a base station and more specific take-off conditions to process data in real time ;
The PPK solution offers greater flexibility in how to deploy the drone, but the results are only obtained after the flight mission.
Our drones with RTK technologies
DJI Matrice 300 RTK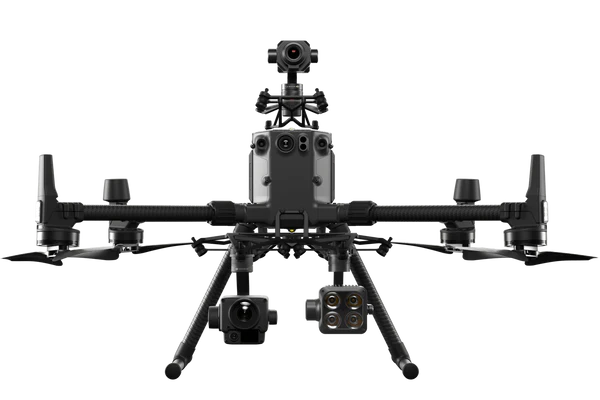 The Matrice 300 RTK from DJI is inspired by modern aviation systems. It offers an autonomy of up to 55 minutes of flight and its combination of on-board artificial intelligence and high performance make this drone a complete tool that provides very precise results.
The Matrice 300 RTK is designed with redundant systems and sensors to maximize flight safety and reliability. These redundancies and safety mechanisms include: dual sensors for the flight control system, dual links for control signals, dual smart batteries, dual transmission links, redundancies for the obstacle detection system and a three-prop emergency landing.
To enhance flight safety and device stability, dual-vision sensors appear on all six sides of the device, providing a maximum detection range of 40m, with options to customize the detection behavior of the device. device via the DJI Pilot app. Even in complex operational environments, this 6-direction sensing and positioning system helps keep the drone and the mission safe.
There are several combos for this drone, which allows you to have a more or less long warranty extension, or the possibility of having additional smart batteries and / or accessories. Find the comparison of all these combos, here.
DJI Phantom P4 RTK
An RTK module is integrated directly into the Phantom 4 RTK, providing real-time, centimeter-accurate positioning data with unprecedented precision in image metadata. In addition to providing optimized flight safety and accurate data collection, the Phantom 4 RTK can also store satellite observation data to be used for post-processed kinematics (PPK).
In order to optimize the positioning modules of the Phantom 4 RTK, the new TimeSync system has been created to ensure perfect synchronization between the flight controller, the camera and the RTK module. In addition, TimeSync guarantees that each photo uses the most metadata. More accurate and places positioning data in the optical center of the lens, optimizing the results of photogrammetric methods and making it possible to obtain centimeter-accurate positioning data for your images.
Thanks to its camera, the Phantom 4 RTK is based on a 1-inch size sensor, which significantly improves the dynamic range compared to a smaller sensor, which translates into a much greater amount of detail, thus allowing to improve the quality and therefore ultimately the resolution/accuracy of the data.
Equipped with 20 megapixels, it is the perfect compromise between resolution and image size, this allows the creation of data sets of several hundred or even thousands of photos which will be processed fairly quickly by photogrammetry software.
In terms of FOV (opening of the field of vision of the camera), the camera and the optics of the Phantom 4 Pro have a wide enough opening to allow a good restitution of 3D environments which include verticalities and reliefs.
Our drones with PPK technologies
WingtraOne GEN II
The feature set of the WingtraOne GEN II flying wing allows you to minimize your flying time and get more work done. The WingtraOne GEN II features the most advanced reliability in surveying drones. This is the key to maximizing drone uptime, increasing your productivity and ensuring consistent report delivery.
For your mapping missions, fly at 16 m/s for up to 59 minutes per flight for extended coverage. Additionally, the WingtraOne can fly higher than drones limited to 20MP cameras, allowing you to capture more terrain and more detail with each shot and a larger area per flight.
With the on-board high-precision PPK receiver, you no longer need to set up ground control points. Use only three checkpoints to check the quality of your card. In addition, thanks to the high optical quality, you can reliably reconstruct your map even with lower overlaps. This means more ground coverage per flight line and maximum coverage per flight. It is a perfect solution for recurring inspection operations, which would require much more investment if they were not carried out via a drone.
FAQ
Do DJI Mavic drones have RTK ?
It is indeed possible to integrate an RTK antenna into the Mavic 2 Enterprise advanced only, accessory sold separately. This function requires an N-Trip type connection (virtual antenna network with subscriptions such as Smart-Net or Cannet networks). However, this technology can only be used in areas covered by LTE or 4G, with connection sharing with cellular or with an LTE key inserted in the remote control, so a service fee must be expected.
Consumer drones are limited and do not offer this technology, therefore they cannot meet the requirements necessary for photogrammetry (the georeferencing of images by GPS of the drone and the planning of missions or automated flights are not available). In order to be able to access these different parameters, you must orient yourself towards company solutions.
Can RTK technology be added to an existing drone ?
The most important thing is to have a device capable of performing planned and automated flights. In this way, it is always possible to obtain precision in post-processing, using georeferenced ground targets. Site preparation is to be expected and surveying equipment will be required for this. RTK georeferencing also requires in some scenarios site preparation, target setting. It is therefore not possible to make a drone RTK or PPK if the manufacturer has not designed the drone for this.