In the spring of 2022, DJI presented a new drone, the Matrice 30. This quadricopter is not intended for image professionals (although there's nothing to stop them from buying it), but rather for law enforcement officers, mountain rescue workers, firefighters and construction specialists.
The launch of the M30 once again pushed back the boundaries of what was possible. This drone packs top features and performance into a foldable aerial platform that you can carry in a backpack.
Thanks to its rapid deployment and compatibility with the DJI Dock, let's find out why the Matrice 30 is a revolutionary drone for public safety and asset inspections.
A portable professional drone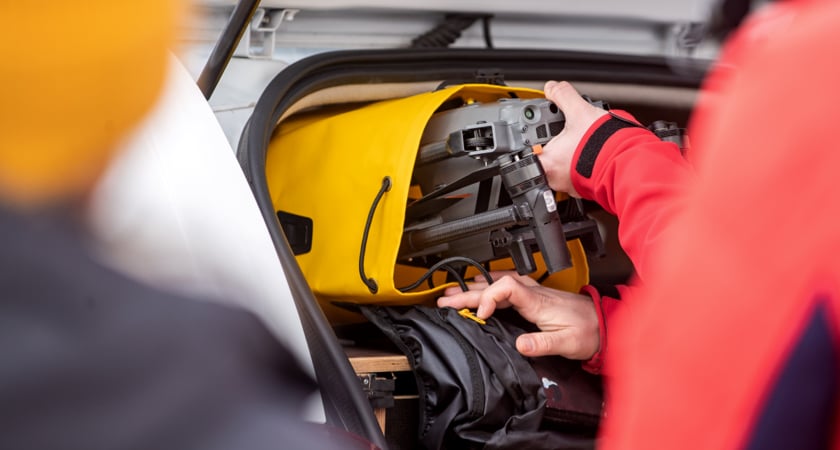 During inspection and public safety operations, pilots need to be reactive and able to fly their drone from several locations during the same mission. In these cases, portability is essential.
The drone weighs just 3.77 kg and has a 67 cm wingspan, making it lightweight and easy to transport. What's more, once folded, the Matrice 30 is compact enough to fit in a backpack.
With its enhanced portability, the DJI M30 provides considerable reactivity and deployment speed for your various missions, whether it's an emergency or a simple inspection, it will be the ideal ally.
Rapid deployment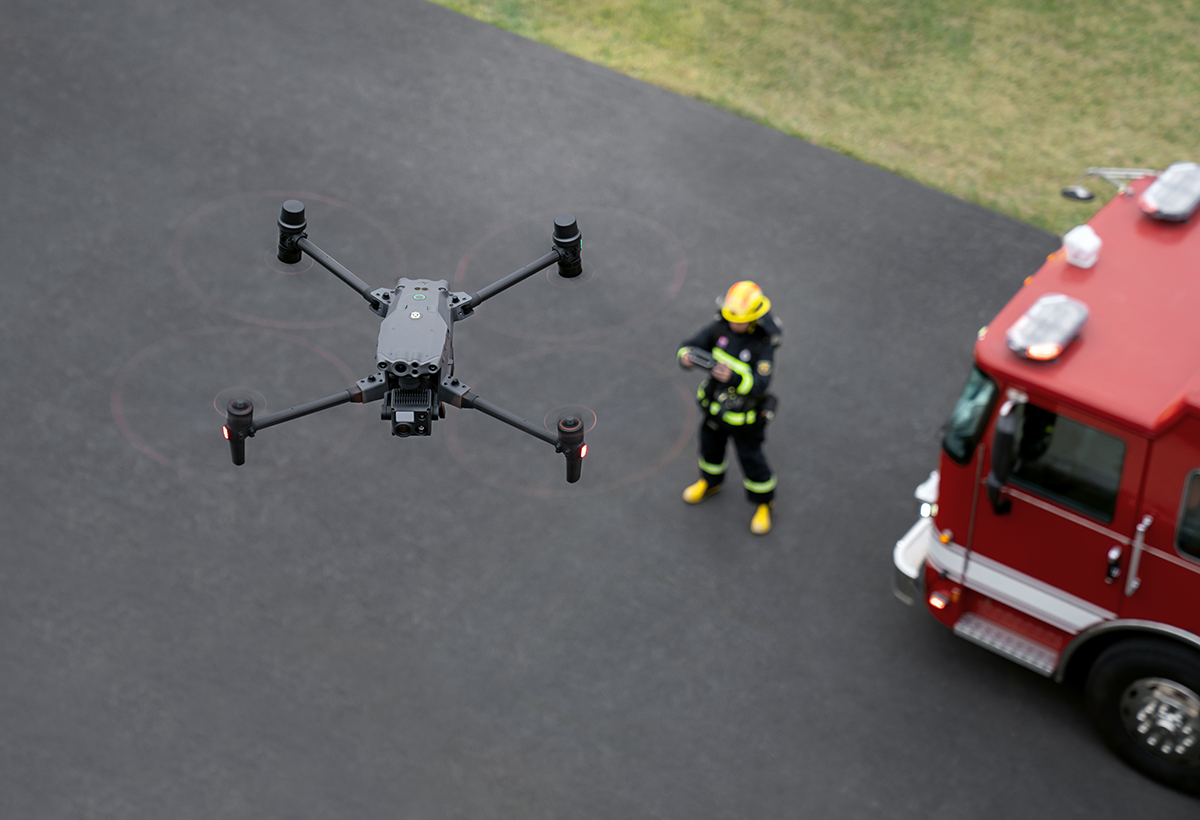 During a search and rescue mission, every moment is precious, and you can't waste precious minutes calibrating camera pods or screwing down landing gear. That's why the M30 was developed with speed of deployment in mind.
The M30's camera pod requires no calibration before takeoff, while its folding arms feature a quick-lock mechanism to reduce set-up time. And, unlike the M300, there's no landing gear. Each element is designed to be ready to fly in a matter of seconds.
Robust, durable and reliable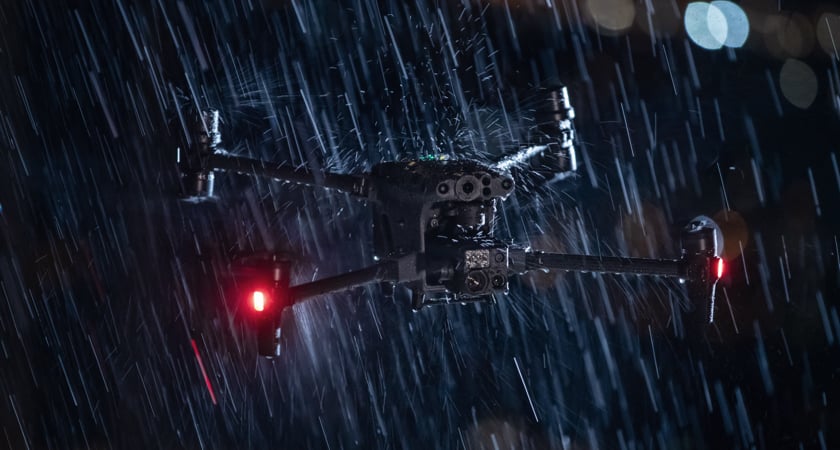 During your operations, you may have to deal with certain weather conditions. The M30 builds on the features of the M300 and features IP 55 protection, so you're not dependent on the weather. In other words, the M30 is resistant to light rain, wind and temperatures between -20°C and 50°C. This means it remains operational in difficult weather conditions, and enables you to carry out emergency missions requiring immediate deployment.
Assured flight performance
The M30 weighs half as much as the DJI M300, and offers enhanced flight performance. This drone has an autonomy of 41 minutes flight time, a maximum flight speed of 23 m/s, a maximum ascent/descent speed of 7 m/s, and stability in winds of up to 15 m/s. Although smaller in size than the Matrice 300, it's no less powerful, enabling you to tackle all kinds of missions.
Point performance of M30 and M30T camera pods
The Matrice 30 features a laser rangefinder and a hybrid visual camera pod, comprising a 48 MP zoom camera and a 12 MP wide-angle camera. Both cameras feature ½-inch CMOS sensors and can record 4K 30 fps video. Both models also benefit from an enhanced FPV camera that optimizes detail in low-light conditions, enabling pilots to spot the horizon when flying at night.
The Matrice 30T has all the above, plus a thermal sensor with the same capabilities as the Zenmuse H20T. It offers 640 x 512 resolution at 30 Hz and temperature measurement accuracy of ± 2°C.
A powerful controller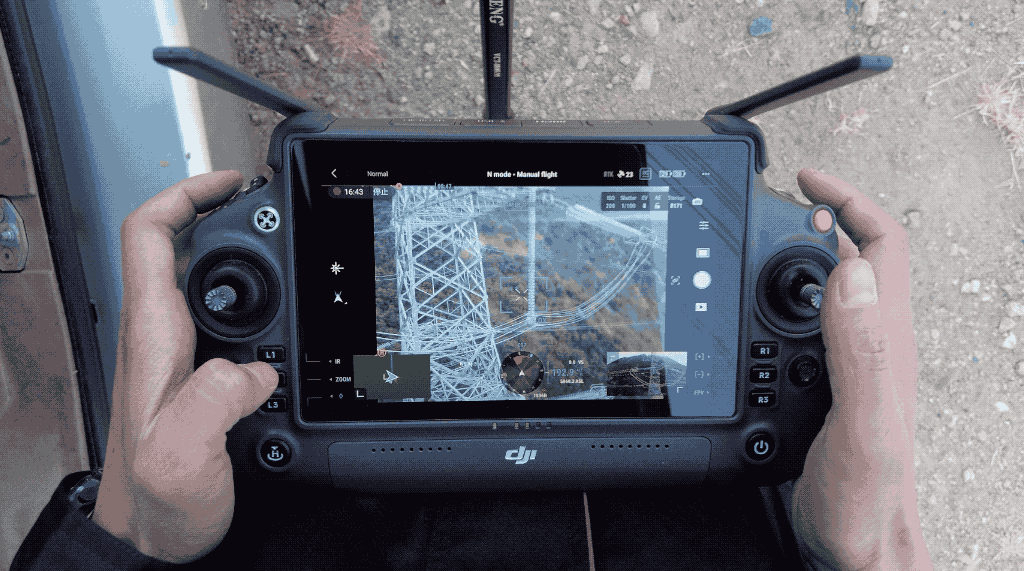 To complete and enhance the Matrice 30 drone's performance, it comes with a professional radio control system: the DJI RC Plus.
This radio controller features a 7″ touchscreen display, allowing you to manage your flight, data acquisition and aircraft parameters. With its IP54 protection rating, it is rain-resistant and can operate in temperatures ranging from -20°C to +50°C.
Even in a complex environment, it will still be possible to see clearly what's going on on the DJI RC Plus screen, which has a brightness of 1200 cd/m². Finally, thanks to its dual battery system (one internal and one external), it can offer up to 6 hours of autonomy.
Compatible with the DJI Pilot 2 application, the DJI RC Plus works with the OcuSync 3 Enterprise transmission system, which means that the connection to your drone is even more solid, optimized to last even in the event of interference.
Smarter battery recharging
The DJI Matrice 30 comes with its : BS30. This accessory, with a capacity of eight M30 TB30 batteries and two WB37 radio control batteries, has been designed to make managing your drone's batteries as simple as possible.
It offers three charging modes, which you can choose according to your needs:
Standard mode ;
Ready-to-fly mode;
Storage mode.
Advanced safety features
The DJI Matrice 30 is packed with hardware and software features to protect your equipment and people on the ground during missions. This includes the same omnidirectional anti-collision system as on the Matrice 300.
The Matrice 30 has been designed for all possible scenarios. A condition management system constantly monitors component status, and in the event of engine or propeller failure, you can perform an emergency landing with three propellers.
To conclude
So you see, with its efficiency and portability, the DJI Matrice 30 is an ideal solution for emergency scenarios requiring rapid access to precise data from the sky. First responders, public safety personnel and inspection teams all need this type of tool, which provides highly reliable data and perfectly meets the requirements of their working conditions.
If you would like further information or a quotation, please fill in the form below and one of our r advisors will contact you.